Yoga for the changing seasons of your life...
Let yourself explore all that you can be, all that you are becoming and enjoy all that you are!
THIS IS YOUR SPECIAL PLACE
You are seen and heard here. Please come as you are, perfectly imperfect, completely human, completely wonderful! Classes are inclusive, trauma-conscious, and non-appropriative.
JOIN OUR FREE BOOK CLUB
We read non-fiction books that provide practical wisdom for everyday life! We meet once a month.
Our next meeting is November 1st, 7:00 pm-8:30 pm
Navigating changes together
There's nothing we can't handle when we consciously support each other through it, one pose at a time.
Whether you are experiencing a life transition, a health change, or simply seeking to join a like-minded soulful community, this is your thing!
Offerings are always holistic in that they address the mind, body, and soul. Always.
Classes vary every month and are usually theme-based. The yoga practice always includes breathwork (pranayama), meditation, as well as a physical movement (asanas).
The specialty of The Backyard Yogini is helping women thrive as their bodies change with all the different seasons of their lives. Classes are intentionally small to encourage meaningful connections among participants.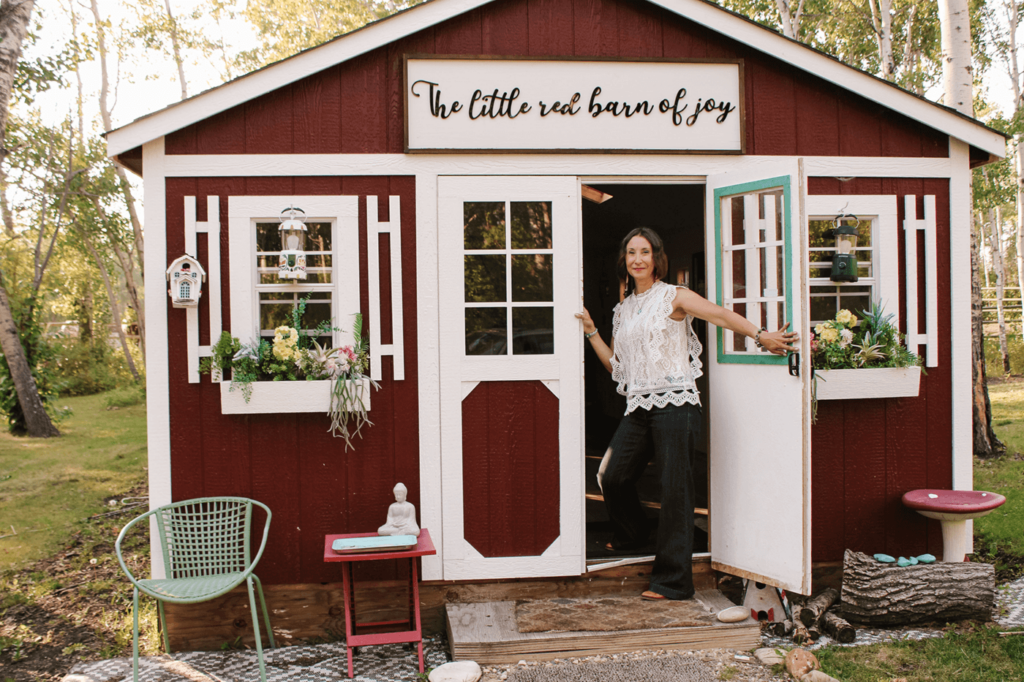 The Little Red Barn of Joy onsite studio
In the cooler seasons, classes are offered in this adorable intimate heated space. You are sure to feel a child-like joy when practicing in this high-vibrational environment.
Yoga deck with a view
In the warmer seasons, classes are offered outdoors on a deck, amongst mature trees, right in front of the highly vibrational equine-assisted support© horses.
The tranquil presence of the horses offers an added touch of magic to the practice, as they passively hold space for all who are attending. It is not uncommon to have them all approach the deck and rest their heads on the fence rail, which is within arm's length, to bear witness to the transformation of all attending. The horses especially love sound baths. They also seem to know when one of the participants can use a little horsepower!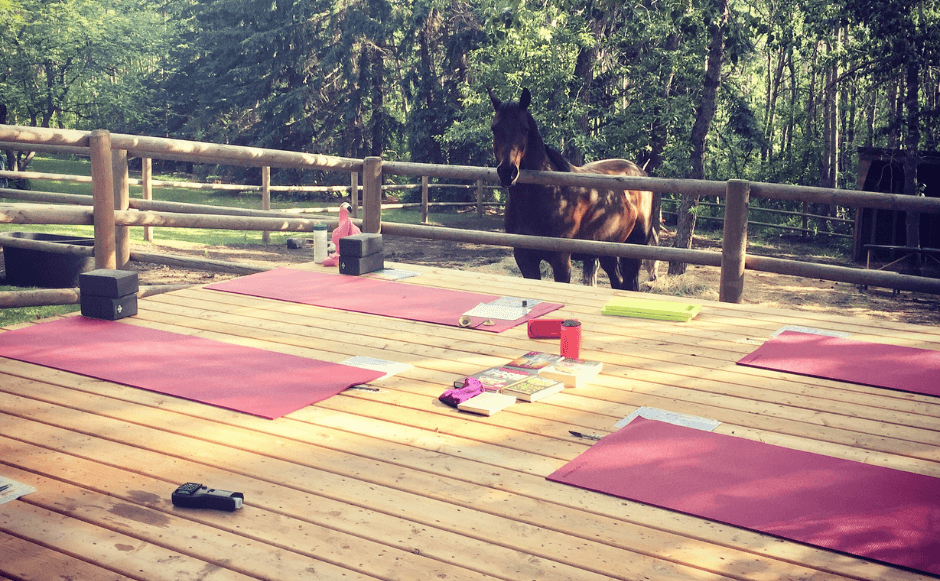 Marianne Disipio is The Backyard Yogini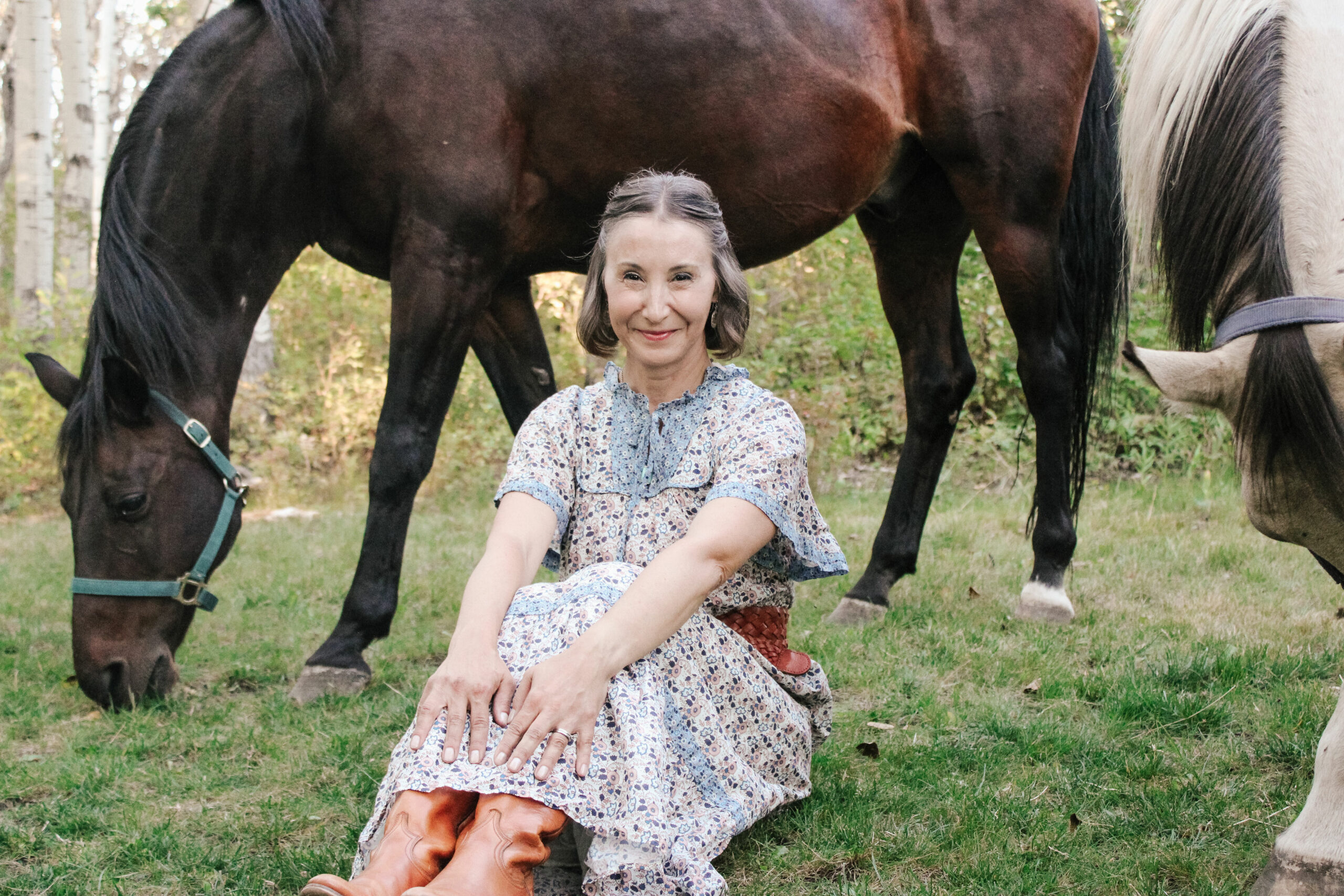 Marianne is a licensed and registered Yoga Instructor with a background in Occupational Therapy, Wellness Coaching, and Expressive Arts. She is also the proud founder of the practice of Equine-Assisted Support©. Marianne's life journey has led her through various transitions, and she is passionate about sharing the unique strategies that have helped her thrive despite significant chronic challenges. Currently, Marianne is interested in helping support women through menopause, guiding teens to surface above their insecurities, and empowering neurodiverse children to be their best selves! Marianne lives on her property with her 3 daughters, 3 horses, 3 dogs, and her very tolerant, very handsome husband George.
Marianne's property is located off Twelve Mile Coulee Rd., 1 minute's drive from the COOP! You will be here in a jiffy!